If you've ever been on TikTok, you know there are plenty of dancing videos on it, and many people try to be different in theirs. However, it isn't some unique moves that has these dancer's clips going viral, it's the shadowy, ghostly figures that appears behind them as they dance.
This first video shows the young woman dancing in her kitchen when a sinister, transparent, dark apparition can be seen making its way across a second floor landing.
She was oblivious to the figure when it was behind her, but after watching the video she tweeted it out, saying that she is "scared for [her] life."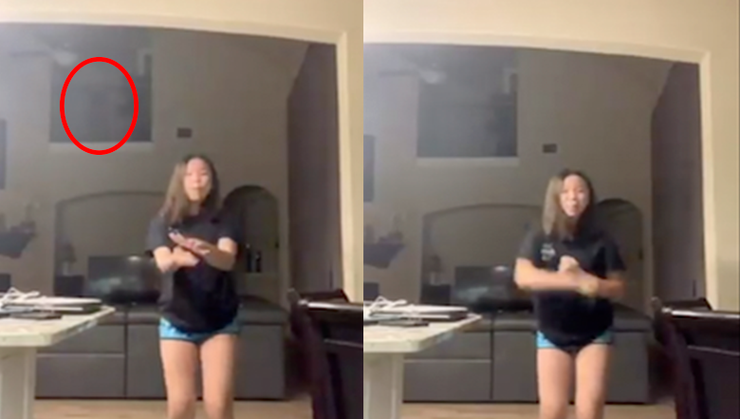 While usually on ghost videos, many people comment on how the footage is fake, but no one seems to be saying that in this thread – perhaps it's because they believe what's in the video is truly paranormal. Spookily, this is far from the first example of TikTok users becoming freaked out by weird goings-on.
---
Another TikTok dancer went viral after uploading a video of himself cutting some moves to Doja Cat's song Say So.
The video was viewed 3 million times, but while viewers were impressed by his moves, they were more obsessed with the super creepy figure lurking in the background when he was supposedly home alone.
The video is taken in his living room and behind him is his staircase, and suddenly four seconds into the video, something strange appears by the stairs and disappears.
At first, he thought that his video was really good, but when he read the comment section he freaked out. He watched the video and decided to post his reaction to it as well.
One of the users commented: "The AMOUNT OF ANXIETY I have from his video. That's someone literally poking their head TO LOOK AT YOU."
Real or staged? You decide…
---
---
The mystery surrounding an apparition seen lurking in the background of the TikTok user's video has deepened, with dancer Reuben saying it's not the first time he's had a spooky experience in the house.
In fact, he has posted a second, even scarier video from a few years ago to prove his point.
He said in about 2012 the house — located next to two graveyards — was renovated and he captured another unexplained appearance as he took a video to send to his grandparents showing the work that had been done.
As he pans through the rooms of the house, he passes one where what looks to be a person is seen near a light-filled window but as he swings the camera back in apparent surprise a moment later, they have vanished.
Reuben told those speculating about what it was that appeared in the dance video that he was home alone and he doesn't have any pets.
"I am not surprised that this is happening, this type of has stuff has happened my entire life of living in this house," he said.
"I do live next to two graveyards.
"A lot of people are wondering why I'm so calm about all this, I barely slept last night.
"I'm like 99 per cent certain that it wasn't a person on the stairs, because like the stairs are loud … I would definitely have heard them, the stairs are creaky and loud as hell."
What do you think? Share your thoughts below in the comments.
---